Combination Therapy to Treat Wet Type Age-Related Macular Degeneration
Compositions and Methods for treating neovascularization and ischemic retinopathies by targeting angiogenesis and cholesterol transport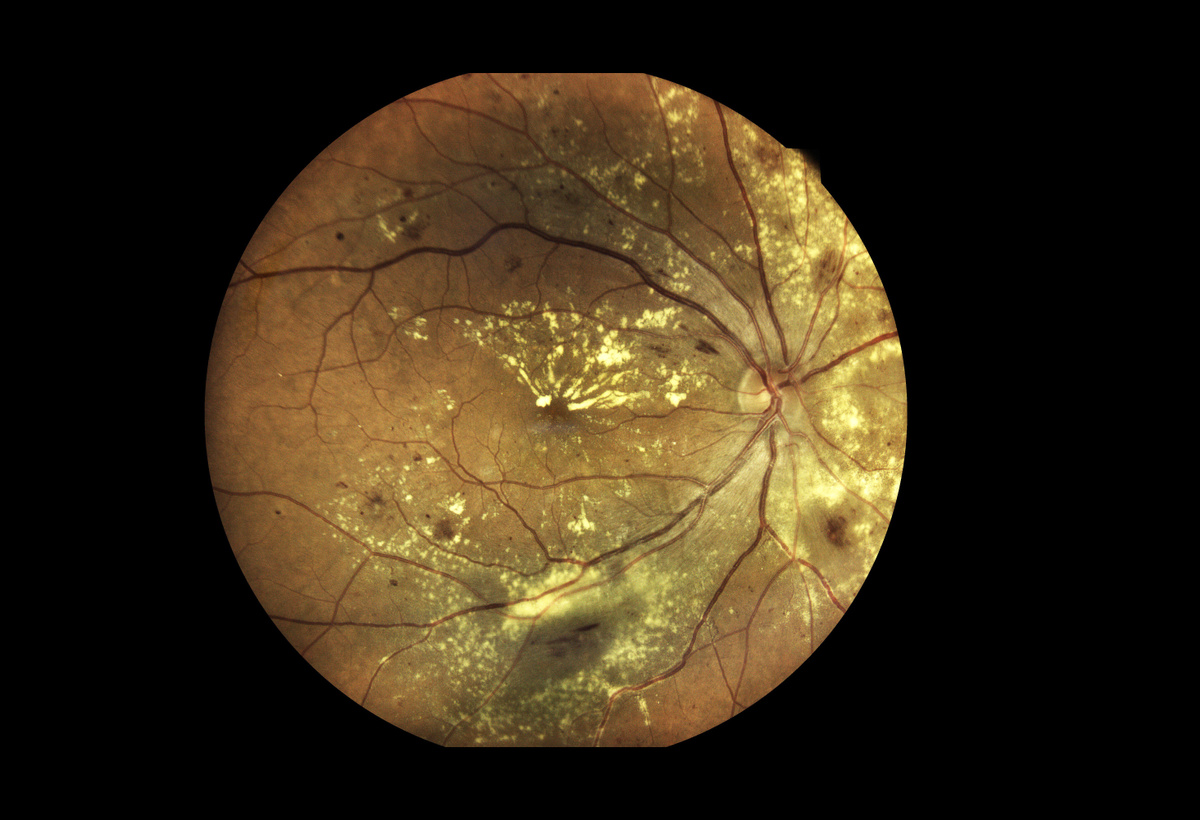 Background
Loss or deterioration of sight is a major symptom of aging in many adults in the U.S. A major cause of blindness is due to Age-related Macular Degeneration (AMD). The majority of those who lose vision from the condition have the "wet" form (choroidal neovascularization CNV), characterized by the abnormal growth of blood vessels that leak damaging fluids into the light-sensitive tissues of the eye. The standard of care of wet AMD is monthly or bimonthly injections of anti-vascular endothelial growth factor (VEGF) medicines such as ranibizumab (Lucentis), aflibercept (Eylea), and brolucizumab (Beovu) into the eye. Anti-VEGF agents can slow or stop the growth of the leaky blood vessels that cause blindness. However, it is estimated that up to 50% of patients have poor responses to the current anti-VEGF treatment (e.g., persistent fluid, unresolved or new hemorrage), the long-term outcomes are suboptimal even among responders and can lead to anti-VEGF resistance.
Technology Overview
BCM researchers have found that treatment with a combination of apolipoprotein-A-I (apoA-I), apoA-I binding protein (AIBP) along with anti-VEGF medicines effectively eliminates anti-VEGF treatment resistance in wet AMD in animal models. AIBP/apoA-I blocks inflammation and neovascularization by promoting cholesterol removal from two key cell types involved in wet AMD (endothelial cells and macrophages). By simultaneously targeting both VEGF and macrophages, the combination therapy can significantly prolong and improve current anti-VEGF therapies for a broad spectrum of AMD patients.
Stage of Development
This technology has been extensively validated as a proof-of-concept in AMD mouse models.
Further Details
Zhang, Z., Shen, M.M., Fu, Y. Combination of AIBP, apoA-I, and Aflibercept Overcomes Anti-VEGF Resistance in Neovascular AMD by Inhibiting Arteriolar Choroidal Neovascularization. Investigative Ophthalmology & Visual Science November 2022, Vol.63, 2. doi: https://doi.org/10.1167/iovs.63.12.2
Zhu, L., Parker, M., Enemchukwu, N. et al. Combination of apolipoprotein-A-I/apolipoprotein-A-I binding protein and anti-VEGF treatment overcomes anti-VEGF resistance in choroidal neovascularization in mice. Commun Biol 3, 386 (2020). https://doi.org/10.1038/s42003-020-1113-z
Benefits
Comprehensive anti-angiogenesis by targeting two distinct pro-angiogenic target cell types.
Availability of a large preexisting population of patients with signs of anti-VEGF tolerance or tachyphylaxis for immediate transition to our combination.
Broad applications for long-term treatment of wet AMD and other ischemic retinopathies including diabetic retinopathy.
Confirmed safe and efficient elimination of anti-VEGF resistance by combined therapy in mouse models of AMD.
Potential to replace current anti-VEGF monotherapies and become a new first line therapy. The 2021 market size for anti-VEGF therapeutics was $12.09 Billion.
Applications
Application for a broad spectrum of wet AMD patients including anti-VEGF responders and non-responders and other ischemic retinopathies including diabetic retinopathy.
Opportunity
Available for exclusive license.
IP Status
Patent application submitted